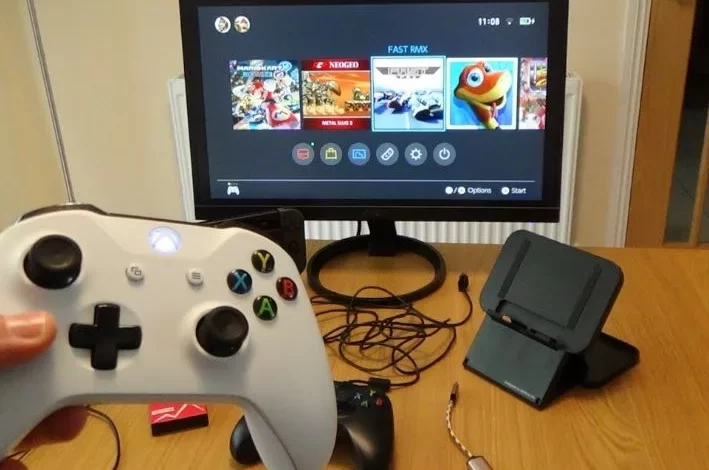 When we hear about Super Mario, Mario Kart 8 Deluxe, Animal Crossing: New Horizons, Super Smash Bros Ultimate, The Legend of Zelda, Pokémon Sword and Shield and many other popular games, no doubt we are thinking of Nintendo Switch. Launched in 2017 in a very short time, it became one of the most wanted video game consoles. Because it is easily portable, we can easily use it wherever we normally want with appropriate accessories.
We can play our favorite game on a big TV or on our pc monitor, easy to connect. We need the dock, which comes along with the Nintendo and HDMI cable. After that, we connect it Nintendo Switch and the dock, and dock with a TV with the HDMI cable and we are ready to enjoy in our games. But sometimes our TV or monitor is not free to play. Someone watches TV, someone works on the PC and the only solution for a bigger screen is our laptop. Then we ask ourselves how to Connect Nintendo Switch to Laptop and how to play Nintendo switch on laptop. The answer to that question is: you cannot directly connect your Nintendo Switch to a laptop.
How To Connect Nintendo Switch To Laptop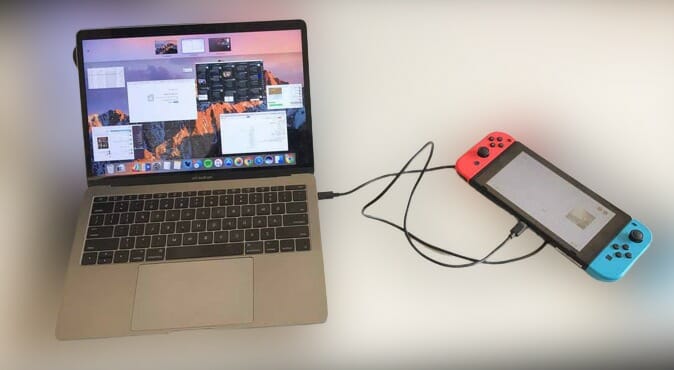 Laptops have an HDMI output; from that HDMI port, you can give pictures, but you cannot receive pictures. Does that mean I cannot use it on a TV, off curse no, we only need an adequate device like Video Capture Card.
Connecting Nintendo Switch to laptop, it's possible with these things: 
Nintendo Dock

Video Capture Card

HDMI Cable

Software
Nintendo Dock
Nintendo Switch Dock does not improve our Nintendo performance; it just gives us the opportunity to connect it to a larger screen.
The best thing is that we don`t need to pay extra or to buy Nintendo Dock, because it comes as an accessory. We have to put Switch into the dock and connect The HDMI cables to the TV and enjoy playing our favorite games.
Video Capture Card
We need a video captured card if you want to finish the job for a successful connection to a bigger screen. The captured cards are used to convert old sources of movies into HD formats and the best facility for live streaming. The card will offer superb functionality and let you connecting Nintendo switch to laptop. With the Video Capture Card solution, you solved the problem of how to play Switch on laptop. One of the best choices on the market is its Elgato Gamer capture card because this card is the best in the market today.
HDMI Cable
Any HDMI cable that we have, we can use it. The Nintendo Switch also comes with a good-quality HDMI, so you can use that.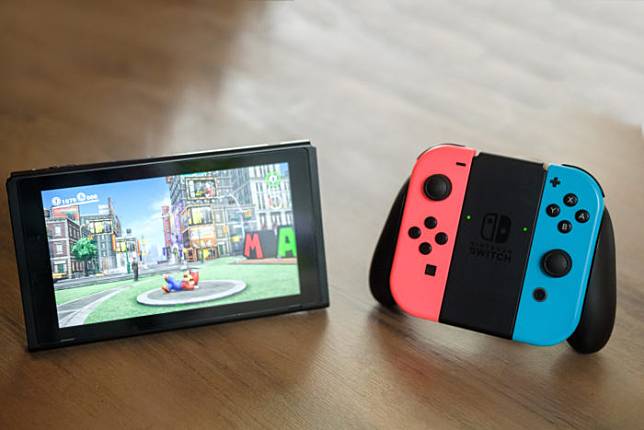 Software
To capture the video in order to show on the laptops' screen, we need to download software. If we are using this software for the first time, one of the most recommend is OBS Studio. This software is free of cost and supports all operating systems such as Mac, Windows or Linux. If we have been using any software to stream the videos before and familiar with it, we can use that.
We can also use Elgato, because is the the most famous software, to get this connecting Nintendo switch to laptop job done. The Elegato is a free version of the software and will let us capture HD videos.
Since we have all the things we should use laptop as a TV screen:
First, we have to disconnect the HDMI cable that is connecting our TV and Nintendo Switch.
The second step is to connect the HDMI port on the video capture card with the HDMI port on Nintendo Switch Dock with the laptop's HDMI port.
With a USB Type-c cable, we connect the video capture card and laptop. The capture game application will detect the Nintendo Switch on your laptop.

After we downloaded the software on our laptop, we should open it and turn on the Switch using a home button and open Game Capture HD.

We can turn on the console by pressing the home button on the connected controller.

After a short time, we should see our Nintendo Switch home screen. We can press the full screen and our Switch footage will be shared on the screen.
With these steps, we have connected our Nintendo Switch on our laptop. We can pursue our Switch gaming on a laptop like the way we have been doing it on a TV.
Connecting Nintendo Switch To Laptop Conclusion
This is one of the ways how to play Nintendo switch to a laptop. If we cannot provide a video captured card for any reason, a solid alternative is to play the PC versions of our favorite Nintendo Switch games on our laptop. Many of the video games available on the Nintendo Switch are also available on the Microsoft Store app store on Windows 10, Epic Games, or Steam.