Reviews
Best Budget Gaming Chair Under $200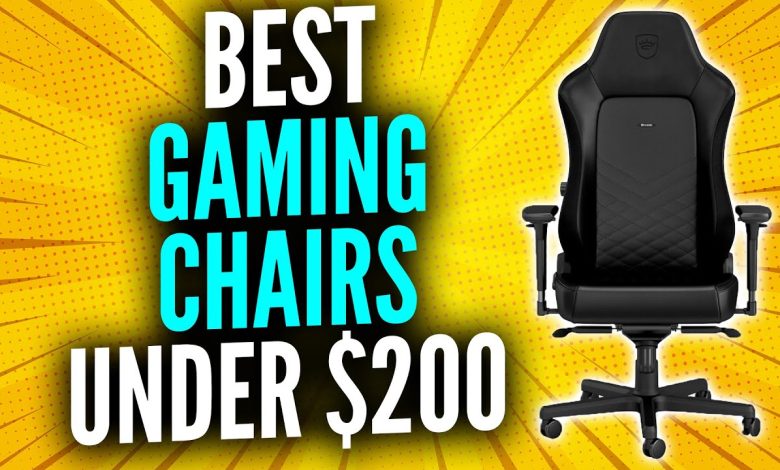 Every gamer today will tell you how important it is to have a comfy gaming chair. But those same gamers are either sponsored by the company who made the chair and got it for free, or they have paid more than 200 dollars to get it. With that being said, a lot of people can't afford to spend that amount of money, so if you are searching for gaming chairs that are below 200 dollars, we got you covered. Today we will be talking about the best gaming chair under 200.
Every model you will see on this list has been tested, and people who have those gaming chairs have helped us to give you the best description of what you will get if you buy one of them. Of course, getting something that you like doesn't mean it is the perfect match for you, so consider looking at all of our mentions. So without further ado, here are the candidates for the best gaming chair under 200 dollars.
Best Gaming Chair Under 200 
1. GTracing eSports Best Gaming Chair under 200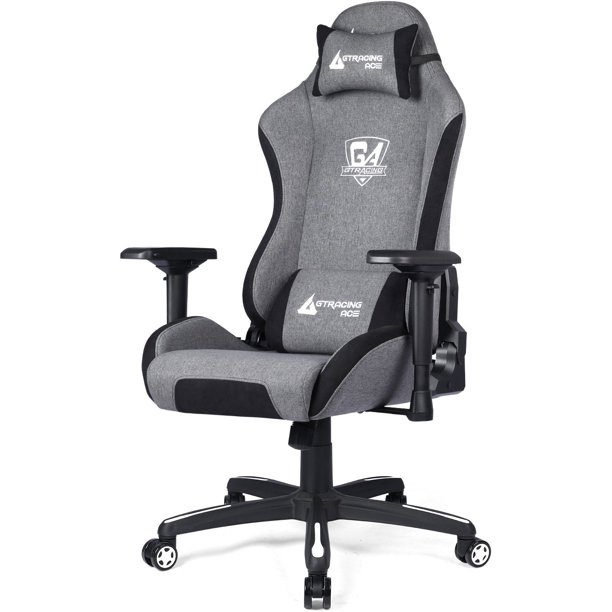 We start our list with the GTracing eSports Gaming Chair, which is one of the most popular choices under 200 dollars. With its solid build and an all-black design, it would look amazing in your room and even in the office. Not only is it adjustable up and down like any other gaming chair, but it can also be adjusted left and right. It is made to bring functionality and comfort for the user with its lumbar support and neck headrest, which are all covered in PU leather.
You can also recline up to 170 degrees, which some people have said that they have even fallen asleep on them. Although the armrests are not padded, everything else about this chair suggests that it should be placed in the category of expensive chairs for its capabilities. But this gaming chair can be bought for less than 200 dollars.
2. Lorell Executive High-Back Chair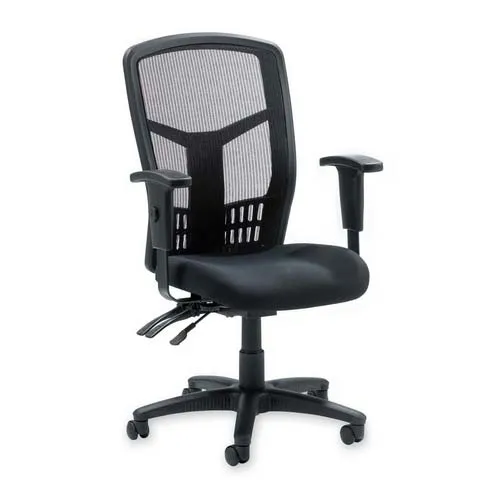 What makes this gaming chair unique is its large mesh back. Although the mesh might not be high-density, the high-quality nylon makes up perfectly. Because a hefty amount of nylon has been used to make this chair, you can be sure that it will be quite durable. The only thing that can hurt its durability is the low-density mesh. For the price that you can get this gaming chair, it is respectfully the most comfortable, with its back resembling a firm mattress.
The only setback that makes this chair not the best is that it has no lumbar support and no headrest. If those setbacks had been fixed, this maybe would have been the best gaming chair under 200 dollars.
3. AmazonBasics Big & Tall Executive Chair – The Best PC Gaming Chair under 200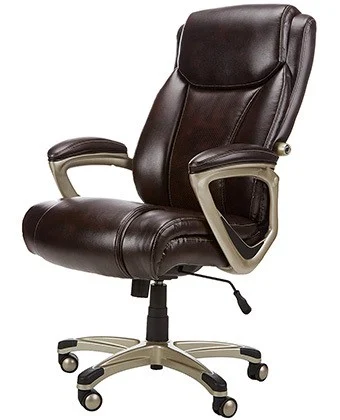 This chair is the perfect example of a chair that you can use both in the office and for gaming. Because of its fully adjustable settings who are on the top of the curved contours, make sure that you are adequately comfortable during use. It isn't made from proper leather, but the upholstered bonded leather also has its advantages. It`s way cheaper than real leather, it doesn't damage when you stretch it, and it will last you for years. It also is pretty soft and cool when your body touches it.
This chair doesn't have a headrest or lumbar support, but the lumbar setting makes up perfectly. Tall people can easily adjust it to their needs and feel comfortable like anyone else. Unlike the first gaming chair we showcased, this one has padded armrests who also add comfort. It is unlike your modern gaming chairs by design but its classical design still looks good. Another setback is that you can't recline it very much, but minor delays like this don't make the chair bad.
With a price like this one, it sure has most of the features that high-end gaming chairs have, and because of that, it is wise purchasing it.
4. Homall Racing Gaming Chair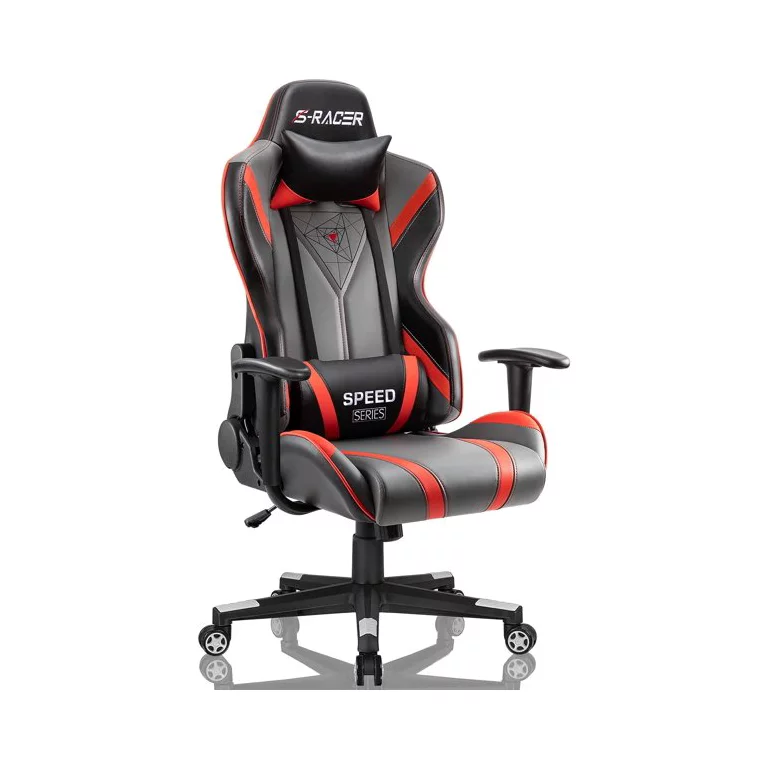 The Homall Racing Gaming Chair is highly popular because of its features that resemble the ones that higher-end racing chairs have. The neck and lumbar pillows will surely be comfortable for you and will improve your body posture. Because this chair doesn't have any padding on the armrests, who are pretty solid, gaming or doing word on this chair for multiple hours can sometimes bring pain on to your elbows, even if you can adjust their height.
One of its great features is that it can recline a full 180 degrees, which means that you can lie flat on you back when you are feeling a little tired. Its casters are padded with rubber, so when you move the chair, it won't make any noise. Also, its whole frame is made from metal, so be sure that this chair is pretty durable. It can hold up more than 300lsb of weight.
5. Devoko Ergonomic Gaming Chair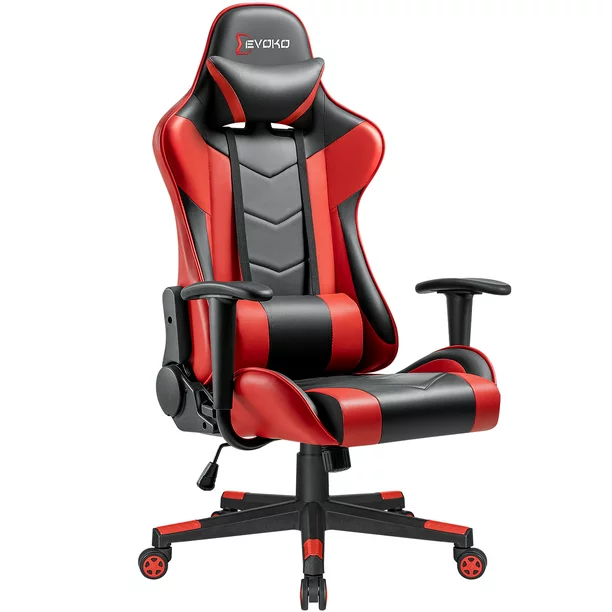 The Devoko Ergonomic Gaming Chair is made of high-quality polyurethane leather and pretty thick padding. The big curved back also is made from premium leather with gives airflow all over your back area, plus it has memory foam on the back to provide additional comfort. Most people will say that padded armrests shouldn't be a feature only for higher-end gaming chairs, but to make up for that, this gaming chair has concave shape armrests at least give some kind of comfort. It has its neck and lumbar support which help with your body posture.
Like the chair before it also has the recline feature that goes to 180 degrees, for those between game rests. The rolling casters are of high quality, which makes sure your floor won't be scratched. One big downside to this chair is, when you take it out of the box it comes in, it has a pretty strong smell, so make sure that you unbox it and put it together somewhere other than your room.
6. RESPAWN-200 Racing Style Gaming Chair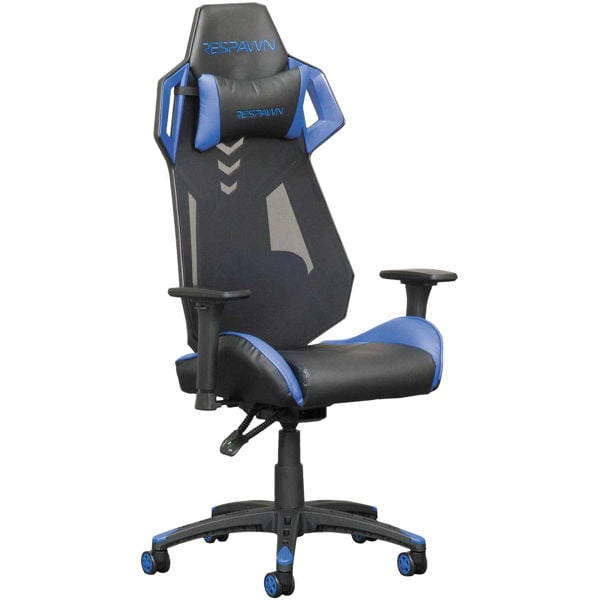 Our sixth mention goes to one of the most affordable gaming chairs on the market, the RESPAWN-200 Racing Style Gaming Chair. This gaming chair is just starting to catch the attention of people because its price is way lower than its competitors on the market. Unlike the other gaming chairs that we have featured, the lumbar support on this chair is placed behind the mesh back.
For you to adjust the lumbar support, you would have to reach behind and between the vents. Some people have complained about the placement of the setting, but you would have to make the adjustment once, and the setting you leave it in will stay in place. We have to mention that this gaming chair doesn't have padded armrest, but we shouldn't be bothered much by this because it comes at such a low price.
The right to left adjustment isn't a feature of this chair, which would have made it even better, but the height and depth adjustments are enough. For people who pay attention to aesthetics, they can choose between four colorways that are red, blue, green, and grey. You have to also take good care of it and be careful how you handle the chair because its glassy plastic can be easily scratched.
7. KILLABEE Big and Tall (350 lb) Massage Memory Foam Gaming Chair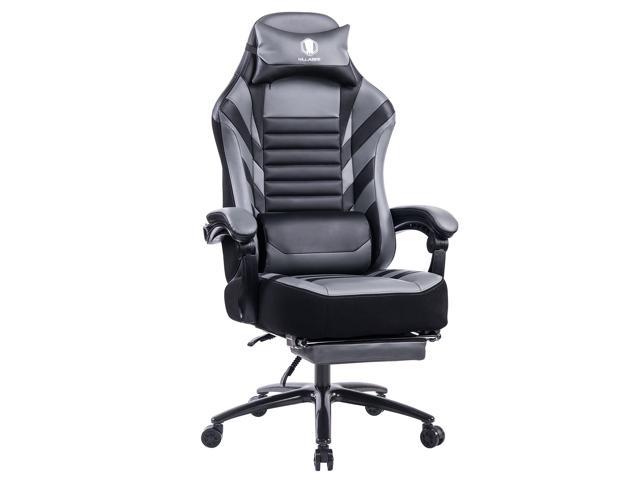 We can say that the KILLABEE Big and Tall (350 lb) Massage Memory Foam Gaming Chair can be considered the best pc gaming chair in the market right now. We say this because this gaming chair comes with features that most of the chairs on this list don't have. Two features that you won't find in other budget gaming chairs are the electric lumbar support that can massage your back while using it and that it also has a retractable footrest.
We would like to mention the footrest first because it has some problems. The footrest itself isn't built pretty well, so bigger people may have a problem keeping it in one place. The footrest comes in various colors, which we think is a conciliation because the footrest isn't top-quality. The chair is covered in polyurethane material and has a memory foam padding underneath. On the back, the lumbar support is also electric, which you can attach with a USB port and get a nice massage from time to time.
The recline feature only comes up to 155 degrees, which isn't as high as others, but for some people, it can be enough. The company that makes these gaming chairs wanted to make a chair that can hold weight up to 350 lbs. People who are close to that weight don't have to worry when getting this chair, because it will provide comfort and stability.
8. Furmax Best Gaming Chair under 200 with High Back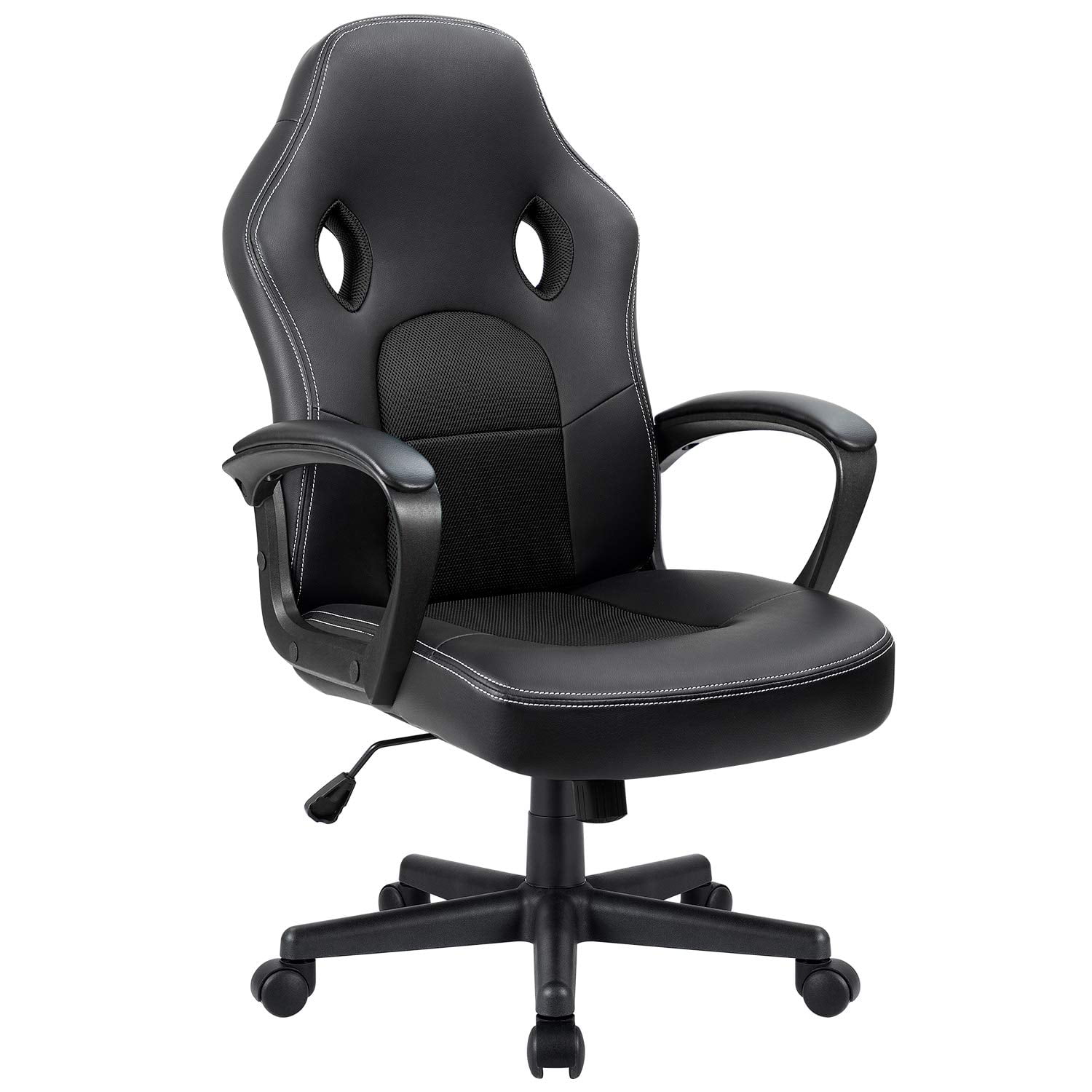 We continue the list with the Furmax Gaming Chair High Back Racing Chair, which like the previous gaming chair it also has the footrest feature. But unlike the previous footrest, the Furmax footrest it built pretty well, and when put in place, the user won't have any problems. Other features include a 180-degree recline, which makes it a bit better than are previously mentioned gaming chair.
This gaming chair has polyurethane leather and has its headrest and lumbar support also which make it pretty comfortable. Same as many models on this list, the Furmax doesn't have any padding on its armrests, and so big gaming sessions will result in some elbow soreness. The armrests can only be adjusted up and down, which does hurt this chair's adjustability feature. Having those armrests adjust left, right and back and forth would have made this chair way better.
The armrests are the major setback to this chair, and most people had made complaints about them, saying that it did make a difference when they played for multiple hours, and the comfort level wasn't pretty good.
9. Playseat Challenge NASCAR Edition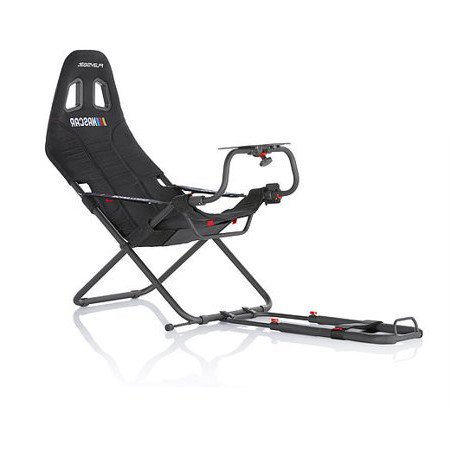 For people that love racing games and want to feel like they are in the game, in the seat of the car, the Playseat Challenge NASCAR Edition will make sure that you get the best experience there is. We consider this gaming chair to be one of the best pc gaming chairs on the market today. This gaming chair is perfect for racing simulation games because it will allow you to attach your steering wheel and the racing paddle on it, giving you the feeling like you are in the car.
The downside is that there is no attachment to your shifter. Not only can it be attached to your pc, but this chair also goes perfectly with other consoles such as PS3, PS4, Xbox 360, and Xbox One. It isn't the best console chair, but it still does its job. This gaming chair will not be suited for most people, because this chair is made for racing. It doesn't have any armrests, it doesn't move or reclines, and it doesn't have any castes.
It is so well built that it stays in place quitter well, and making it tip over is quite impossible. Being able to not wobble at all make it perfect if you are one of those people that love racing.
10. Respawn 110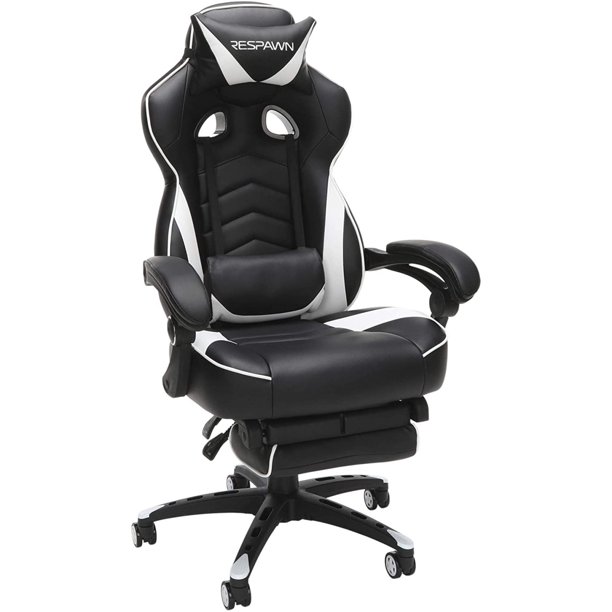 Our last model on the list is the Respawn 110, which is considered the most popular and cheap gaming chair today. It has most of the features that chairs on this list have and even higher-end gaming chairs, but what it has that little in this list have is comfortable armrests. They are padded with thick bonded leather and can be adjusted in 4 different directions. It also has a footrest that can be deemed good, and its recline feature can go up to 130 degrees, which is not great, but for the price this chair goes for, it is certainly enough.
How To Choose The Best Gaming Chairs Under 200
We know that you will find a reason to say why you want to but a gaming chair, but the harder part is picking the best gaming chairs under 200 for you. Next, we will teach you what to look for first when going out to purchase a gaming chair. This is considering that you have a budget under 200 dollars, so making sure you get everything you need in that price range can be a little tricky.
Prioritize Comfort with Quality Materials And Support
One of the most important things that a gaming chair needs to have is comfort. At the end of the day, you are sitting on it and making sure that you feel comfortable, whether it is for a short period or long gaming sessions. Comfort is essential. When you go out to purchase a gaming chair, you should know from what material is the chair made of, how good is its support (talking about the headrest and lumbar support) and does it have multiple adjustable features.
The most used materials that are used to cover the gaming chairs are polyurethane, mesh, leather, and fabric. When looking at the chairs, you want to get, test them out, sit on them, and see what material suits you most.
Get A Chair that Matches Your Size
Each gaming chair varies in height and weight capacity. The most common weight that a gaming chair can support is 200lbs, although some gaming chairs are built to support up to 400lbs. Like weight capacity, height capacity is also considered when buying a gaming chair. Some gaming chairs are made for people who are not taller than 5'5″, but you can also find gaming chairs that their backrest can suit people over 6 feet.
The best thing you can do is find a gaming chair that can support 20lbs more than your current weight, and that is close to your height, maybe a bit bigger than that.
Determine Your Desk Height and Width
Another thing to consider when going to buy a gaming chair, which many people have forgotten is making sure that the chair you get can fit close to your desk where your computer is. Measure the height and width of your desk, so you have an idea of how big can be the gaming chair you are willing to get.
Take Note of Adjustments You Like or Need
Gaming chairs have multiple adjustment features, even the budget gaming chairs that we mentioned have the most essential feature. The features that you will see almost in every gaming chair are reclining, tilting, and numerous armrest adjustments. Many people have said that they don't quite care or need some of the features we just said, but there are people that like their gaming chair to be as adjustable as possible.
The gaming chairs we listed have the basic adjustable feature, some even have more than the basic, but have in mind that all features might not be made well. For example, we mentioned that some chairs have footrests that are not built well and may wobble, some lumbar supports aren't placed in the right position.
So if you want all of your features to be perfectly placed and working as they should be, consider looking at the mid-range priced chairs and the more premium gaming chairs.